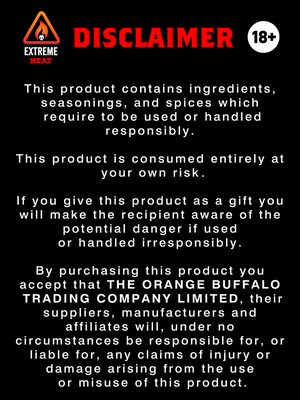 VIPER - 100ml
Ultra f#@%ing HOT, seriously, extreme heat: After years of hearing customers requests for a sauce that triggers an out of body experience, we created this nasty little fecker.
Forged in the furnaces of hell, no joko this is loco! Think you have the Niagaras to take this on? We've heard it all! And the outcome is always the same. Can be added to your dishes to add infernal heat. You could take on the #VIPERWINGCHALLENGE. Get that bog roll in the freezer prior to consumption!

Heat: WARNING, this is a product that is for adults only and should be kept out of the reach of children.
Fact: At our locations we run a Viper challenge which is to eat a full portion of 8 wings as quickly as possible. Most people tap out after one wing! The current champion completed it in 1minute 10 seconds.
Enough to coat eight chicken wings, comes supplied with gloves, and a disclaimer applies.
Goes great with: Chicken wings and intense pain.
Ingredients: Red chillies, Scotch bonnets, Naga chilli, vinegar, water, butter, flour, salt, spices, 6.4 million Scoville extract, mustard, and garlic.

ALLERGENS IN BOLD.
Contains: Gluten, dairy, and mustard.
Suitable for: Vegetarians, masochists, and sadists looking for misadventure.